Side mounting type indoor High Voltage Vacuum Circuit Breaker
VTZ/R-12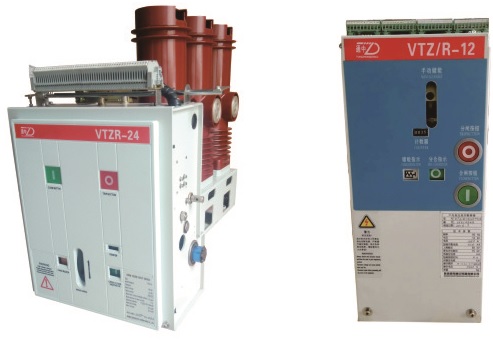 1.General Description
VTZ/R-12/T Side mounting Indoor High Voltage Vacuum Circuit Breaker is widely used for 3phase AC 50(60)HZ and 3.6-24KV indoor device,which is used for protecting and controlling electrical equipment in fields of industry&mining enterprise. power plants and substation.
2.Applying conditions:
Ambient temperature;-10℃----+40℃
Relative humidity:daily average ≤95%,monthly average ≤90%
Seismic intensity :≤8
Saturated vapor pressure:daily average ≤2.2kPa,monthly average≤1.8kPa;
Altitude:≤1000m;(Not including special requirement)
Service environment:should be avoided fire, explosion risk, serious pollution, chemical corrosion and violent vibration
3.Structural characteristics:
1.Adopt module operating mechanism,integrated stored energy hand shank and reasonable whole structure.
2. Use module design to easy dis-assemble and replace broken parts. ;
3.Adopt Solid-closure technology in primary circuit to improve insulation and achieve free maintenance.
4.Long life,The circuit breaker meet M2 &E2.
5.Own excellent breaking property to make and break inductance and capacitance.
6.suitable for KYN-28and XGN-12 and replace VD4-12 and HVX-12.
7.Flexible main circuit connection way to meet different requirement of switchgear .
4.Technical specification
No.

Item

Unit

Data

1

Rated voltage

kV

12

2

Rated frequency

Hz

50/60

3

Rated insulation levels

Rated power frequency withstand voltage/1min

kV

42

Rated lighting impulse withstand voltage

kV

75

4

Rated current

A

630

1250

5

Rated short circuit breaking current

kA

20

20

25

25




31.5

6

Rated short circuit making current(peak)

kA

50

50

63

60




80

7

Rated duration of short circuit

s

4

8

Rated operating sequence




O-0.3s-CO-180s-CO

9

Mechanical life

Times

30000
5.Overall drawing

6.Secondary connection diagram