TZR-12~24 SF6 Gas insulated switchgear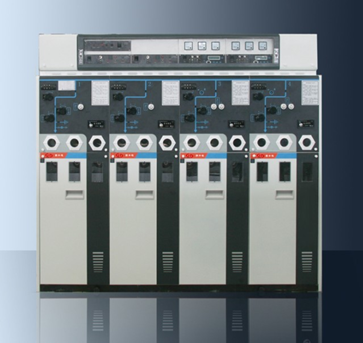 1.General Description:
TZR-12~24 gas insulated switchgear is suitable for ring network terminal power distribution with power levels of 12kV 3-phase AC 50Hz and used for power acceptance,distribution , overload and short-circuit protection, especially applicable for oil-free and maintenance -free places with frequent operation. The switchgear cabinet complies with GB16926, GB3906 and IEC420-1990.
2.Working condition:
1.Ambient temperature;-10℃----+40℃
2.Relative humidity:daily average ≤95%,monthly average ≤90%
3.Seismic intensity :≤8
4.Altitude:≤1000m;(Not including special requirement)
5.Service environment:should be avoided fire, explosion risk, serious pollution, chemical corrosion and violent vibration
Uses should discuss with supplier if working condition exceed above range.
3.Technical data
Item

Unit

Data

Rated voltage

kV

12~24

Rated frequency

Hz

50

Rated current

A

630,1250

Rated short time withstand current(4S)

kA

20,25,31.5

Rated withstand current(peak)

kA

50,63,80

Rated short circuit breaking current

kA

20,25,31.5

Rated short circuit making current(peak)

kA

50,63,31.5

Rated insulation levels

Rated power frequency withstand voltage/1min

kV

42

Rated lighting impulse withstand voltage

kV

75

Level of protection

Shell IP67
4.Overall drawing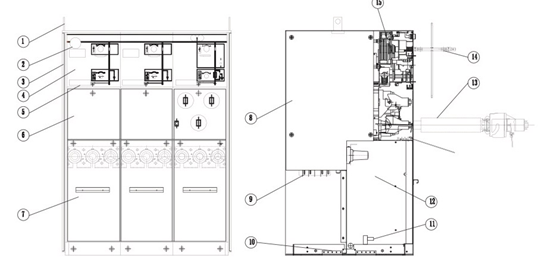 1. Ring
2. SF6 gas manometer
3. Outer cabinet
4. Upper panel
5. Potential indicator
6. Bottom panel
7. Bottom door plate
8.Gas tank
9.Decompression valve
10. Earth-terminal board
11. Cable clip
12.Cable vault
13. Fuse
14. Operating handle
15. Operating mechanism