KYN28A-24 Metal-Clad Movable AC Metal-Enclosed Switchgear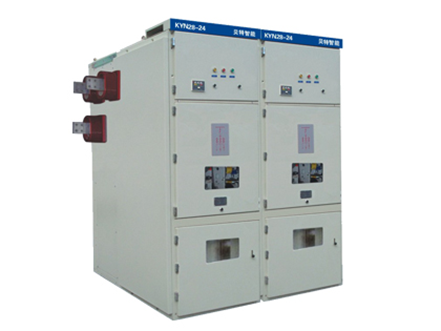 1.General Description:
KYN28A-24 Metal-Clad Movable AC Metal-Enclosed Switchgear (hereinafter referred to as the switchgear) is suitable for the electric power system with indoor three-phase of 50/60Hz and rated voltage of 24KV, and mainly applies to Electric power plants, substations, industrial and mining establishments, as well as high-rise buildings for receiving and distributing the electric energy and controlling, protecting, and monitoring the electric circuits. Position by grounding switch, prevention of closing of grounding switch with electricity, and prevention of mistaken entrance into the electrifiedcompartments etc.KYN28A-24 switchgear is the power distribution quipment with advanced technology, stable performance, reasonable structure, convenient use, as well as safety and reliability.It accords with IEC298,IEC694,GB3906,DL404 and DIN.VDE0670.
2.Working condition:
1.Ambient temperature;-10℃----+40℃
2.Relative humidity:daily average ≤95%,monthly average ≤90%
3.Seismic intensity :≤8
4.Altitude:≤1000m;(Not including special requirement)
5.Service environment:should be avoided fire, explosion risk, serious pollution, chemical corrosion and violent vibration
Uses should discuss with supplier if working condition exceed above range.
3.Technical data
Item

Unit

Data

Rated voltage

kV

24

Rated frequency

Hz

50

Rated current

A

630,1250,1600,2000,2500,3150

Rated short time withstand current(4S)

kA

20,25,31.5

kA

50,63,80

Rated short circuit breaking current

kA

20,25,31.5

Rated short circuit making current(peak)

kA

50,63,31.5

Rated insulation levels

Rated power frequency withstand voltage/1min

kV

65

Rated lighting impulse withstand voltage

kV

125

Level of protection

Shell IP4X,(IP2X after opening door of insulating room& circuit breaker room)
4.Structure of switchgear
A Busbar chamber
B handcart chamber
C Cable chamber
D Relay control meter chamber
1. Shell
1.1Pressure relief device
1.2 Control wiring trench
2. Sub-busbar
3.Busbar housing
4.Main busbar
5.Fixed contact device
6.Current transformer
7.Earthing switch
8.Cable
9.Arrester
10. Main earthing busbar
11.Detachable septum
12. Septum
13. Secondary plug
14. handcart
15. Heating device
16. Withdrawable horizontal septum
17. Operating mechanism of earthing switch
18. Baseplate
19. Structure drawing of switchgear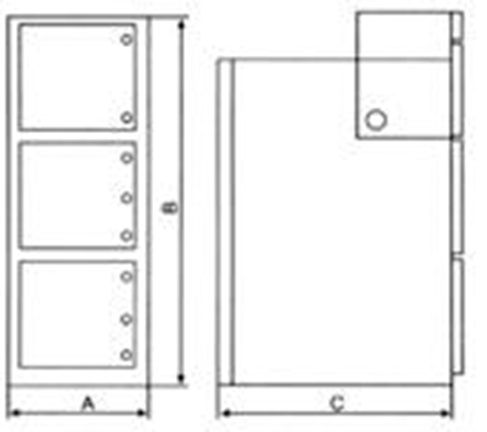 Height B




2300

(2200)

Width A

Rated current of sub-busbar is reached 1250A and Rated short time withstand current reached 40KA

800

Rated current of sub-busbar is reached 1600A and above

1000

Depth C

Cable inlet&outlet line

1500

Overhead inlet&outlet line

1660