GCS LV Withdrawable switchgear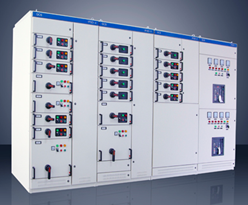 1.General Description:
The product is designed to meet the requirements of the electrical users with high technical performances. It adapts the development and needs of electricity market and also competes with the existing low-voltage switchgears. At present the product has been used widely in power plants, petroleum, chemicals, metallurgy, textiles and high-rise architecture, and the distribution systems in other industries. The product services in the power system of generation and supply of rated voltage of 380V (400),(600), rated current of 4000A, below three-phase AC, frequency of 50(60) HZ, and the following of the electricity supply system of distribution, motor centralized control and reactive power compensation. The product meets the standards of GB7251, JB/T9661 and IEC60439-1.
2.Working condition:
1.Ambient temperature;-5℃----+40℃
2.Altitude:≤2000m;(indoor use)
3.Relative humidity≤95%(when temperature is +20℃),Maybe there will be condensation influence because of temperature change,user must consider it.
4.Switchgear and vertical surface's gradient is no more than 5%, and whole switchgear must be put parallel and level.
5.Service environment:should be avoided fire, explosion risk, serious pollution, chemical corrosion and violent vibration.User should discuss with supplier while they have special requirements.
3.Main technical data
Rated voltage of main circuit(V)

AC380(400)、(660)

Voltage of auxiliary circuit (V)

AC220、380(400)DC110、220

Rated frequency(Hz)

50(60)

Rated insulating voltage(V)

400(66a)

Rated current(A)

Horizontal busbar

≤4000




Vertical busar(MCC)

1000

Short-time withstand current(kA/1S)

50、80

Peak withstand current(kA/0.1S)

105、176

Power frequency testing voltage(V/1min)

Main circuit

2500




Auxiliary circuit

1760

Busbar

Three-phase four-wire system

A、B、C、PEN




Three-phase five-wire system

A、B、C、PEN、N

Level of protection

IP3O、IP4O
4.Overall and assembly drawing