GCK LV Withdrawable switchgear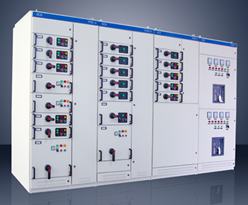 1.General Description:
GCK LV withdrawable switchgear is consist of some combined
motor control units and other function units.Those units is assembled in sealed metal cabinet by up and down overlap. Every cabinet is connected by horizontal busbar in upper cabinet.Meanwhile,Function units in same cabinet is parallel connected onto vertical busbar.Switchgear is divided into horizontal busbar area,vertical busbar area,cable area and device mounting area.The function unit is separately assembled in respective room.It is not affect other unit to prevent accident while any function unit is out of order.
Own high breaking and making function,good dynamic stability,flexible wiring plan,easy assembly,novel construction and high protection level.It accords with IEC439,GB7251 and EBK36001 standard.
2.Working condition:
1.Ambient temperature;-5℃----+40℃
2.Altitude:≤2000m;(indoor use)
3.Relative humidity≤95%(when temperature is +20℃),Maybe there will be condensation influence because of temperature change,user must consider it.
4.Switchgear and vertical surface's gradient is no more than 5%, and whole switchgear must be put parallel and level.
5.Service environment:should be avoided fire, explosion risk, serious pollution, chemical corrosion and violent vibration.User should discuss with supplier while they have special requirements.
3.Main technical data
Rated voltage of main circuit(V)

AC380

Voltage of auxiliary circuit (V)

380

Rated frequency(Hz)

50、60

Rated insulating voltage(V)

660

Rated current(A)

Horizontal busbar

≤4000

Vertical busar(MCC)

1000

Short-time withstand current(kA/1S)

50、80

Peak withstand current(kA/0.1S)

105、176

Power frequency testing voltage(V/1min)

Main circuit

2500

Auxiliary circuit

1760

Busbar

Three-phase four-wire system

A、B、C、PEN

Three-phase five-wire system

A、B、C、PEN、N

Level of protection

IP3O、IP4O
4.Overall and assembly drawing