YBWF-40.5/0.69kVOutdoor Wind Substation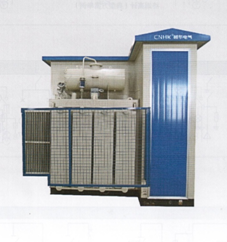 1.General Description:
Nowadays, the wind energy source becomes one of the most important energy sources, and it is one of 'Green energy sources' which has great potential exploiting and applied perspective.
In normal time, the wind turbine output voltage is 690V, so it must be boosted to transmit far away. The wind farm usually use the cable to connect wind generator to wind power special prefabricated substation, boosting the voltage from 690V to 40.5kV, then transmit the power to wind farm's core substation, the core substation will boost the voltage again then connect to state power grid. The wind generator and packaged boosting transformer integration adopt one generator-one transformer unit wiring. This type prefabricated substation is designed and exploited according to this requirement.
2.Working Conditions:
1.Ambient air temperature: -30°C~+40°C
2.Altitude: ≤1000m
3.Wind speed:34m/s ≤700pa
4.Relative humidity: Daily average relative humidity≤95%.
Monthly average relative humidity≤95%.
5.Installation inclination:≤grade 8 .
6.Applicable in the places without corrosive and flammable gas.
Note: Customized products are available.
Item

Unit

Data

Rated voltage

kV

10,35

Power frequency withstand voltage/1min(effective value)

kV

42,95

Peak lighting impulse withstand voltage

kV

75,185

Rated frequency

Hz

50

Rated current

A

315,400,630,1250

Rated short circuit breaking current

kA

12.5

16

Rated withstand current(peak)

kA

31.5

40

Rated short time withstand current

kA

12.5

16

Rated short circuit sustained current

s

4

Rated short circuit making current

kA

31.5、40

Capacity of transformer

kVA

1250,2500
4.Connecting diagram