YB27 Prefabricated Substation (American style)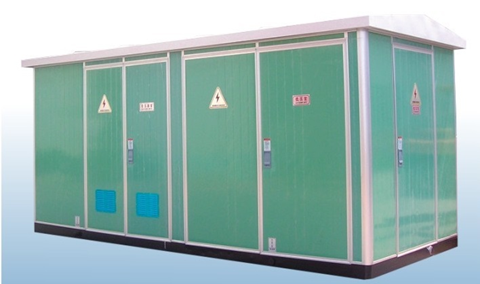 1.General Description:
YB27 series substation is American type combined substation with function of high voltage control, protect, power transformation and distribution. Usually used in urban and rural power distribution system .The high voltage load switch and high voltage fuse of this product are installed in the oil of the transformer, with the two structure: in same case with the transformer and in different case with transformer. It can be used in high-rise buildings, building in urban and rural areas, residential communities ,high-tech development areas, small and medium size factories, mining areas, oil fields, temporary construction sites, and other premises.
2.Working Conditions
1.Ambient air temperature: -30°C~+40°C
2.Altitude: ≤1000m
3.Wind speed:34m/s ≤700pa
4.Relative humidity: Daily average relative humidity≤95%.
Monthly average relative humidity≤95%.
5.Installation inclination:≤grade 8 .
6.Applicable in the places without corrosive and flammable gas.
Note: Customized products are available.
3.Technical data
Transformer
| | | | |
| --- | --- | --- | --- |
| No. | Rated voltage | Rated capacity | No-load current % S9、S10/S11 |
| 1 | 6,6.3,10 | 30~1600 | 0.5~2.2 |
Current transformer
| | | | | | |
| --- | --- | --- | --- | --- | --- |
| Type | Rated primary current | Rated secondary current | Accuracy class | No less than 10 times | Secondary Load |
| LCZ-35Q | 40~500 | 1000~2000 | 0.5/10P10 | 10 | 50 |
| LZJC-10 | 100~1000 | 1000~2000 | 0.5/10P10 | | |
Load switch
Item

Unit

Rated voltage

kV

12

Power frequency withstand voltage/1min(effective value)

kV

42

Peak lighting impulse withstand voltage

kV

75

Rated frequency

Hz

50

Rated current

A

315

630

Rated short circuit breaking current

kA

12.5

16

Rated withstand current(peak)

kA

31.5

40

Rated short time withstand current

kA

12.5

16

Rated short circuit sustained current

s

4

Rated short circuit making current

kA

31.5、40

Mechanical life

Time

2000
4.Overall drawing