Indoor High Voltage Vacuum Circuit Breaker VTZG-40.5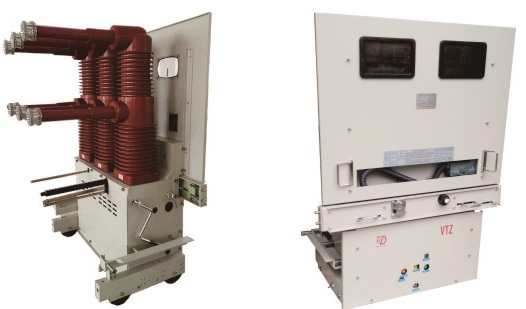 1.General Description
VTZG-40.5 fixed type indoor MV vacuum breaker is used for many kinds of switchgears
like KYN61-40.5. It is widely used for 40.5kV voltage systems which is accordance with GB1984-2003 standards.
Structural characteristics:
1.This vacuum circuit breaker adopts air insulation.lt can meet air distance and creepage under normal run condition.
2.The operating mechanism can use 3AV3 type mechanism,the outlet curve has good adaptation for vacuum interrupters.lt has high reliable with characteristics of long life and easy maintenance.
3.Convenient for matching with switchgear;convenient and reliable operation;compulsive mechanical interlock way is adopted;meet "Five Prevention" function.
2.Applying conditions:
Ambient temperature;-10℃----+40℃
Relative humidity:daily average ≤95%,monthly average ≤90%
Seismic intensity :≤8
Saturated vapor pressure:daily average ≤2.2kPa,monthly average≤1.8kPa;
Altitude:≤1000m;(Not including special requirement)
Service environment:should be avoided fire, explosion risk, serious pollution, chemical corrosion and violent vibration
3.Technical specification:
No.

Item

Unit

Data

1

Rated voltage

kV

40.5

2

Rated frequency

Hz

50/60

3

Rated power frequency withstand voltage/1min

kV

95

4

Rated lighting impulse withstand voltage

kV

185

5

Rated current

A

630

1250

1600

2000

2500




6

Rated short circuit breaking current

Rated short time withstand current(4s)

kA















25

25












31.5

31.5

31.5

31.5
















7

Rated short circuit making current(peak)

Rated withstand current(peak)

kA















63

63










80

80

80

80

80
















8

Mechanical life

Times

10000

9

Rated duration of short circuit

s

4

10

Rated operating sequence




O-0.3s-CO-180s-CO

11

Rated short circuit breaking times

Times

30

12*

Rated single capacitor bank breaking current

A

400

13*

Rated back to back capacitor bank breaking current

A

400

14

Clearance between open contacts

mm

22 ±2

15

Over-travel of contact

mm

7.5±1.5

16

Opening &closing simultaneity of 3 phase contact

ms

≤ 2

17

Bounce time of contact closed

ms

≤ 2

18

Closing time

ms

50~100

19

Opening time

ms

20~60

20

Average closing speed

ms

0.65±0.15

21

Average opening speed

m/s

1.8±0.2

22

Max DC component




50%