YBW-12Outdoor prefabricated substation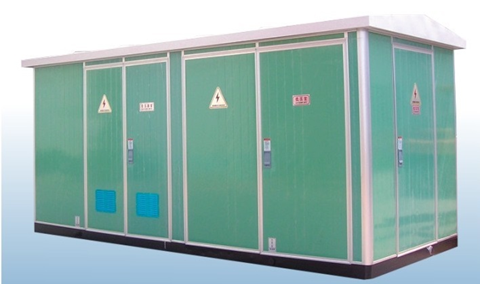 1.General Description:
YBW-12 outdoor substation is a 12-40.5 KV &50HZ outdoor substation with function of high voltage control, protect, power transformation and distribution. It can be used in high-rise buildings, building in urban and rural areas, residential communities ,high-tech development areas, small and medium size factories, mining areas, oil fields, temporary construction sites, and other premises.
2.Working Conditions
1.Ambient air temperature: -30°C~+40°C
2.Altitude: ≤1000m
3.Wind speed:34m/s ≤700pa
4.Relative humidity: Daily average relative humidity≤95%.
Monthly average relative humidity≤95%.
5.Installation inclination:≤grade 8 .
6.Applicable in the places without corrosive and flammable gas.
Note: Customized products are available.
3.Technical data
Transformer
| | | | |
| --- | --- | --- | --- |
| No. | Rated voltage | Rated capacity | No-load current % S9、S10/S11 |
| 1 | 6,6.3,10 | 30~1600 | 0.5~2.2 |
Current transformer
| | | | | | |
| --- | --- | --- | --- | --- | --- |
| Type | Rated primary current | Rated secondary current | Accuracy class | No less than 10 times | Secondary Load |
| LCZ-35Q | 40~500 | 1000~2000 | 0.5/10P10 | 10 | 50 |
| LZJC-10 | 100~1000 | 1000~2000 | 0.5/10P10 | | |
Load switch
Item

Unit

Data

Rated voltage

kV

12

Power frequency withstand voltage/1min(effective value)

kV

42

Peak lighting impulse withstand voltage

kV

75

Rated frequency

Hz

50

Rated current

A

315

630

Rated short circuit breaking current

kA

12.5

16

Rated withstand current(peak)

kA

31.5

40

Rated short time withstand current

kA

12.5

16

Rated short circuit sustained current

s

4

Rated short circuit making current

kA

31.5、40

Mechanical life

Time

2000
4.Overall drawing