VTZ-40.5 Indoor High Voltage Vacuum Circuit Breaker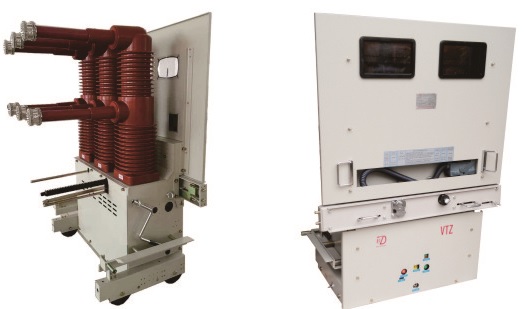 1.General Description
VTZ-40.5 Indoor High Voltage Vacuum Circuit Breaker is equipped with 与KYN61-40.5(Z)switchgear.It is the newest 40.5KV supply and distribution equipment which is in accordance with GB1984-2003.
2.Applying conditions:
Ambient temperature;-10℃----+40℃
Relative humidity:daily average ≤95%,monthly average ≤90%
Seismic intensity :≤8
Saturated vapor pressure:daily average ≤2.2kPa,monthly average≤1.8kPa;
Altitude:≤1000m;(Not including special requirement)
Service environment:should be avoided fire, explosion risk, serious pollution, chemical corrosion and violent vibration
3. Structural characteristics:
The circuit breaker is consisted of embedded pole and modularized mechanism.It is totally different from opening vacuum circuit breaker and insulating
cylinder circuit breaker.1.Using epoxy resin to enclose vacuum arc-extinguishing
chamber and conductive circuit connector into embedded pole by special process.2.The pole is assembled with modularized mechanism to constitute circuit breaker.3.Own excellent mechanical and electrical property.
VTZ-40.5 embedded pole's design fully consider the requirement of domestic and oversea market.Utilizing solid insulating advantage and APG process to
integrate vacuum arc-extinguishing chamber,conductive circuit connector and insulating support into embedded pole.This process not only simplify embedded pole's assembly to avoid connecting bolt looseness of conductive circuit into vacuum arc-extinguishing chamber resulting of run shake,but also enhance reliability to avoid surface influence of vacuum arc-extinguishing chamber being from
outer mechanical force and environment (such as dust,humidity,filthy,high altitude and animal.,etc).Meanwhile,it avoids surface flashover fault which is occurred
under opening status in VCB,due to outer insulation in vacuum arc-extinguishing chamber is worked in bad work condition that lead to reduce insulating level.Thus,Embedded pole during mechanical life is totally free maintenance.Meanwhile,key point is that solid insulation replace of the need of SF6 as outer insulation.That mean that it is more pro-environment.
4.Technical specification
No.

Item

Unit

Data

1

Rated voltage

kV

40.5

2

Rated power frequency withstand voltage/1min

kV

95

3

Rated lighting impulse withstand voltage

kV

185

4

Rated frequency

Hz

50/60

5

Rated current

A

1250

1600

2000

6

Rated short circuit breaking current

kA

25/31.5

25/31.5

31.5

7

Rated withstand current(peak)

kA

63/80

63/80

80

8

Rated duration of short circuit

s

4

9

Rated operating sequence




O—0.3s—CO—180s—CO

10

Closing time

ms

50~100

11

Opening time

ms

30~60

12

Circuit resistance

μΩ

≤60;≤80(Rated current 1250A)

13

Rated short circuit breaking times

Times

20

14

Rated operating Voltage

V

—110/~110,—220/~220

15

Rated current of closing &opening coil

A

1.05/(—110V);0.96/(—220V)

16

Mechanical life

Times

10000

17

Operating mechanism




3AV3 Special spring mechanism

18

Max DC component




40%

19

Rated single capacitor bank breaking current

A

400

20

Rated back to back capacitor bank breaking current

A

400
5.Overall drawing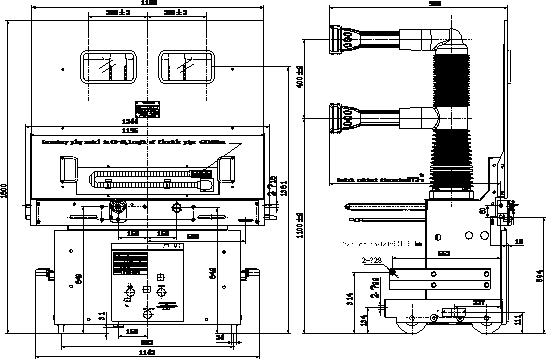 6. Secondary connection diagram